Meet Our Donors
We thank all our donors for their generous support. Here are some of their stories.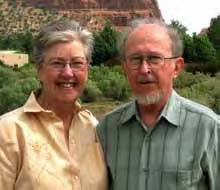 Ray and Linda Allen
"Our family greatly benefited from this community's educational and cultural institutions preserved by past generations. We want to assure that future generations have the same opportunities that were available to us and our daughters. The Legacy Society provides the way for us to help local high school students pursue their educational dreams in engineering and journalism, our own career passions, and to assure that books, art and music will continue to enrich the lives of area families. We strongly believe that a well educated population is the driving force of an economically vibrant community."
Besides being Legacy Society members and active supporters of The Foundation, the Allens are involved in several community projects, including Rotary's International Youth Exchange, Imagination Library and other literacy projects in Herkimer and Oneida counties. Linda is especially dedicated to Rotary, the Women's Fund and the Munson-Williams-Proctor Arts Institute.
---
Alice Root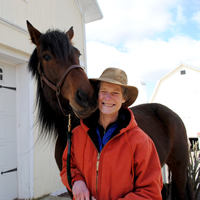 A dream fulfilled forever
Mary (Molly) Bidwell Root's spirit of philanthropy is everywhere at Mud Creek Farm.
It's in the creak of the barn doors. In the clunk of hooves on the hay-coated barn floor. It's in the soft neigh of Trudy, a one-time race horse, donated to the farm for use in their equine-assisted therapy program.
It's here among the vast lush green hills of Vernon where Molly Root's gifts first took root, and she committed her time and money to her daughter Alice Root's passion for horses and equine-assisted therapy.
Molly watched that passion grow and was an influential board member as the program expanded in 2004 to its Verona facility — Root Farm. It's here, now, that more children and adults challenged by severe physical and emotional difficulties transcend their handicaps through therapy with horses, mules and donkeys.
Molly saw that expansion come to fruition.
"She saw that growth as an extension of our own family," said her daughter Alice from her kitchen table at Mud Creek Farm, while her three dogs cozied around her. "It was my dream coming to fruition and, for her to be able to see that dream come true, it meant so much to her."
As important as seeing that dream in her lifetime was the sustainability of that dream in her legacy.
"She knew she was dying and wanted a safety vehicle for this program she had helped me with so much in the beginning," Alice said. "It gave her a sense of security that, even though she wasn't going to be here, The Community Foundation would provide the vehicle to ensure the program and her daughter would be OK. And she knew how much this program meant to me."
Through the Root Family Fund, Molly's presence and vision still live in the present and will into the future. She is there in the face of the child whose smile is biggest during a lesson with a therapy horse whose care is sustained through the fund she started. She is there in the joy of a boy who has never walked and moves out freely on the back of his horse.
She is there in the hands of a therapist guiding a first-time rider through the barn that now is maintained through the funds she left in her legacy.
"It was in my mother's nature to give, and I never heard her turn down anyone ever," Alice said. "She's still saying yes and she's still giving even if she's not physically here. She does it in spirit through The Community Foundation fund she started."
---
Ruth and Beatrice Begent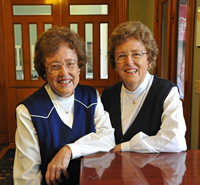 Helping and assisting forever
During their 42 years of employment at The Oneida National Bank & Trust Company of Utica (now Bank of America), Ruth and Beatrice Begent, twins, associated with many customers, employees and friends.
"Our goal was always to be helpful and willing to assist others," they say.
Thanks to a bequest through The Community Foundation these sisters will help and assist others in Oneida and Herkimer counties forever.
"We learned about the Legacy Society from our local newspaper, telling about the mission of The Community Foundation, and felt this was something we wanted to consider."
The sisters encourage others to give back to their community in a big way, too.
"The Legacy Society has grown considerably, and we hope others will decide to become members as they make their estate plans."
---
Wesley Smith and Diane Wolfe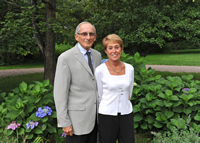 Since Wesley Smith and Diane Wolfe established a donor-advised fund in 2003, it's generated more than 140 grants to organizations and causes across the region and beyond - addressing human needs from hunger to healthcare, education to the arts.
"We appreciate The Community Foundation's recognition and support of the needs of the community. Those needs are great. Our fund provides an organized way to contribute to a larger range of causes, helping a greater cross section of people."
---
Duff Matt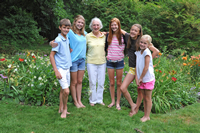 Duff Matt supports causes that were important to her loved ones and that continue to make a difference in the community.
Prevalent among them are education and programs for youths and the arts.
She advises how dollars are used from two family funds, including the F.X. Matt II Memorial Fund, and Alfred & Elizabeth Duffy Fund, which honor the memories of her husband and parents, respectively.
"Growing up, we were taught that we must leave the world a better place. That's what it's all about."